Національний контактний пункт у Прикарпатському національному університеті імені Василя Стефаника провів Інформаційний День у Івано-Франківську 17 грудня 2014 року
---
National Contact Point at Vasyl Stefanyk Precarpathian National University has organized the Information Day on 17 December 2014 in Ivano-Frankivsk
---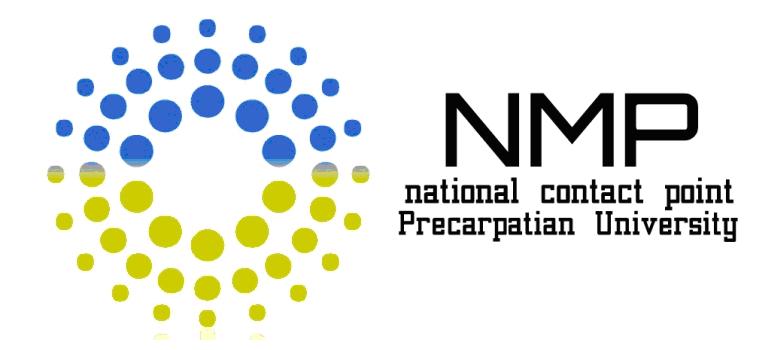 Information bulletin
HORIZON 2020. Leadership in enabling and industrial technologies.
Nanotechnologies, Advanced Materials, Biotechnology and Advanced Manufacturing and Processing
---

2014-2015 Practical guide for NMP calls H2020
Standard collaborative projects NMP:
Nanotechnologies, Advanced Materials, Biotechnology and Advanced Manufacturing and Processing
---
Welcome to Bucharest brokerage "From Projects Ideas to Projects Developments"!
June, 16-17, 2014 | Bucharest, Romania
Bucharest brokerage to be organized in Bucharest in June, 16-17, 2014, as a satellite event of the
Electroceramics XIV conference
, June 16-20, 2014 . The Bucharest brokerage, entitled "From Projects Ideas to Projects Developments" is organized by the NMP TeAm2 project, launched under the FP7 NMP, as a continuation of the NMP TeAm project. One of the main objectives of this project is to organize brokerage events, seen as "partnership building", since the aim of the NMP TeAm2 project is to improve the services that the NCP network can offer across Europe and to raise the awareness of the benefits of the projects offered by the EC, to simplify the access to Horizon 2020 calls, to lower the entry barriers for newcomers and, last but not least, to raise the quality of submitted proposals.
This brokerage event is THE opportunity to meet potential partners, to develop future collaboration and to set up research projects as well as a very sure way to establish technological partnerships and contacts with relevant companies and research institutes and to promote your own products, services and expertise. It is also a way to get first-hand information from experts.
For those of you interested to present project ideas at the brokerage event, please fill the attached presentation's template and return it to
letitia.pavelescu@ancs.ro
latest June 6th 2014.
Also please confirm your participation no latter then June 2nd 2014, in order to allow us enough time to make the bookings.
---
Welcome to 6th European Innovation Summit!
17-20 November, 2014 | European Parliament
The 6th EIS will be a great opportunity to meet the newly elected MEPs, and why not the new Commission President as this was the case 5 years ago.
The
Summit program
will include a combination of "horizontal" topics, such as the framework conditions for innovation, a mini-summit organised by the younger generation, a roundtable on the TTIP and what it measns from the perspective of innovation, the role of regions and cities as well as a number of parallel sessions on hot innovation topics related to:
Food security, sustainable agriculture and the bio economy;
Secure, clean and efficient energy;
Smart, green and integrated transport;
Health related issues
Climate action, resource efficiency and raw materials
Big data
The EIS partners have the opportunity to organize their own event on a topic of their choice, speak at conference sessions, present concrete cases from their day-to-day experience and demonstrate their RDI achievements at the EIS Exhibition Space.
Contact:
Iskren Marinov
K4I Secretariat
Tel: +32 (0) 223 3545-1
Fax: +32 (0) 223 3545-9
www.knowledge4innovation.eu
---
Welcome to Industrial Technologies 2014!
9-11 April 2014 | Athens
The Industrial Technologies 2014 conference integrates nanotechnology, biotechnology, advanced materials and new production technologies. The event offers opportunities for developing valuable research and industry collaborations, and showcases cutting-edge research, latest innovations and rising companies from all around Europe.
The main topics include:
European and global developments in the high-tech arena,
Re-industrialisation and regional development in Europe,
Technological and entrepreneurial opportunities especially for the Balkan and Mediterranean states, and
Opportunities in Horizon 2020 in the field of enabling technologies.
The event takes place during the Greek Presidency of the European Council and has received funding from European Union Seventh Framework Programme.
Details:
http://www.industrialtechnologies2014.eu/
---
До уваги потенційних учасників програми Horizon 2020!
Пропонуємо Вам ознайомитися із чудово систематизованими рекомендаціями з підготовки проектів до перших конкурсів програми Горизонт 2020, які опубліковані Іваном Кульчицьким (м.Львів, НКП "Інформаційні та комунікаційні технології"). Текст рекомендацій Ви можете переглянути за посиланням:
http://cstei.lviv.ua/ua/item/900
---
МОН України видало
наказ від 20 грудня 2013 року №1802 "Про створення національних контактних пунктів"
.
Цей наказ затверджує перелік Національних контактних пунктів рамкової програми ЄС "Горизонт 2020" за тематичними напрямками. Національним координатором визнано Державне підприємство Міністерства освіти і науки "Бюро з міжнародного трансферу технологій".
Завантажити
файл із текстом наказу (
.pdf, 351kb
).
Відповідно до цього наказу на базі ДВНЗ "Прикарпатський національний університет імені Василя Стефаника" створено національний контактний пункт за напрямком "Нанотехнології, сучасні матеріали та передові промислові виробництва".
За цим же напрямком створено НКП у:
Інституті проблем матеріалознавства імені І.М.Францевича НАНУ (контактна персона: Чернишов Леонід Іванович);
Національному технічному університеті "Харківський політехнічний інститут" (контактна персона: Хрипунов Геннадій Семенович).
Найближчим часом опублікуємо всі НКП України.
---
Увага!
Важливі документи щодо напрямку "Нанотехнології, сучасні матеріали та передові промислові виробництва" програми "Горизонт 2020":
---
---
HORIZON is designed to reach a wide range of readers interested in the latest developments in EU funded research and innovation and the impact they have on our everyday lives. HORIZON will also feature opinion pieces from leading researchers, innovators and policy makers.
The
magazine
will be regularly refreshed with new articles and multimedia content, which can also be viewed on mobile devices. Links to social media networks will allow readers to express their own views and give feedback on the featured articles.
---